Yeah, one major source of replay for me with the Fallout series is mods, and one of the first I installed for Fallout 4 was to make the vertibirds more resilient. It was kind of stupid that (cue "Flight of the Valkyries" music) in comes the flying cavalry against a bunch of raiders with PIPE GUNS, and it's not some lucky hit with a rocket launcher that takes the bird out, but just their combined peashooter fire. I mean, wow, the BoS ought to run out of Vertibirds in short order, at the rate they come crashing out of the sky in Fallout 4. :)
Even if it's just a glorified terrain piece (vertibird - intact or wrecked) I'd still buy it, because the things look cool in their various incarnations. As far as I'm concerned, though, there is no ONE vehicle that is called a "vertibird." The look and apparent function of "vertibirds" has changed far too radically across the Fallout series for them all to be the same craft even if we just chalk up changes in appearance to "artistic license." I think "vertibird" must just be a cooler way of referring to a general class of "tilt-wing rotor aircraft, filling role of helicopter, but looking cooler while doing it."
Otherwise, for game play, my main interest in the vertibird would be the potential for "advance deployment" of models on boards with lots of terrain that'll slow down regular miniatures movement -- so there's some way to get troops toward an objective outside of the normal deployment zone. For super mutants, "nightkin" would be ideal to fill that role (specialized super mutants with stealth boys) but apparently the Institute didn't go that direction with their version of FEV experimentation (translation: no nightkin in Fallout 4, so we're unlikely to have them for a long time). For BoS, the ideal mechanism would be a big flying deathtrap dropping your squishy scribes and heavily-armored paladins deep into enemy territory, and hoping against hope that a super mutant doesn't just take your whirlybird down with a lucky pipe-gun shot on the way in. MAYBE it will last long enough to drop off your guys and then fly back out.
Actually keeping the vertibird in the battle zone and providing fire support is likely to be very bad tactics (i.e., you're going to LOSE that bird) for campaign play, based on what we've seen in Fallout 4.
If Vertibirds are provided for Brotherhood of Steel, and the Enclave becomes a playable faction, I'd LIKE to see a different model of Vertibird that looks more like something the Enclave has actually been portrayed flying with, rather than just plopping the same model on the table and painting an "E" with stars around it and calling it a day. But if they don't go that route (i.e., if the new design is THE design, and we're just treating it as an artistic retcon), eh, I'll deal with it. (I just prefer a world in which we have different models of things.)
For comparison:
Transport Vertibird -- Fallout 2 (used by Enclave):
VB-02 Vertibird Gunship (circa Fallout 3 / Fallout New Vegas -- used by Enclave, NCR):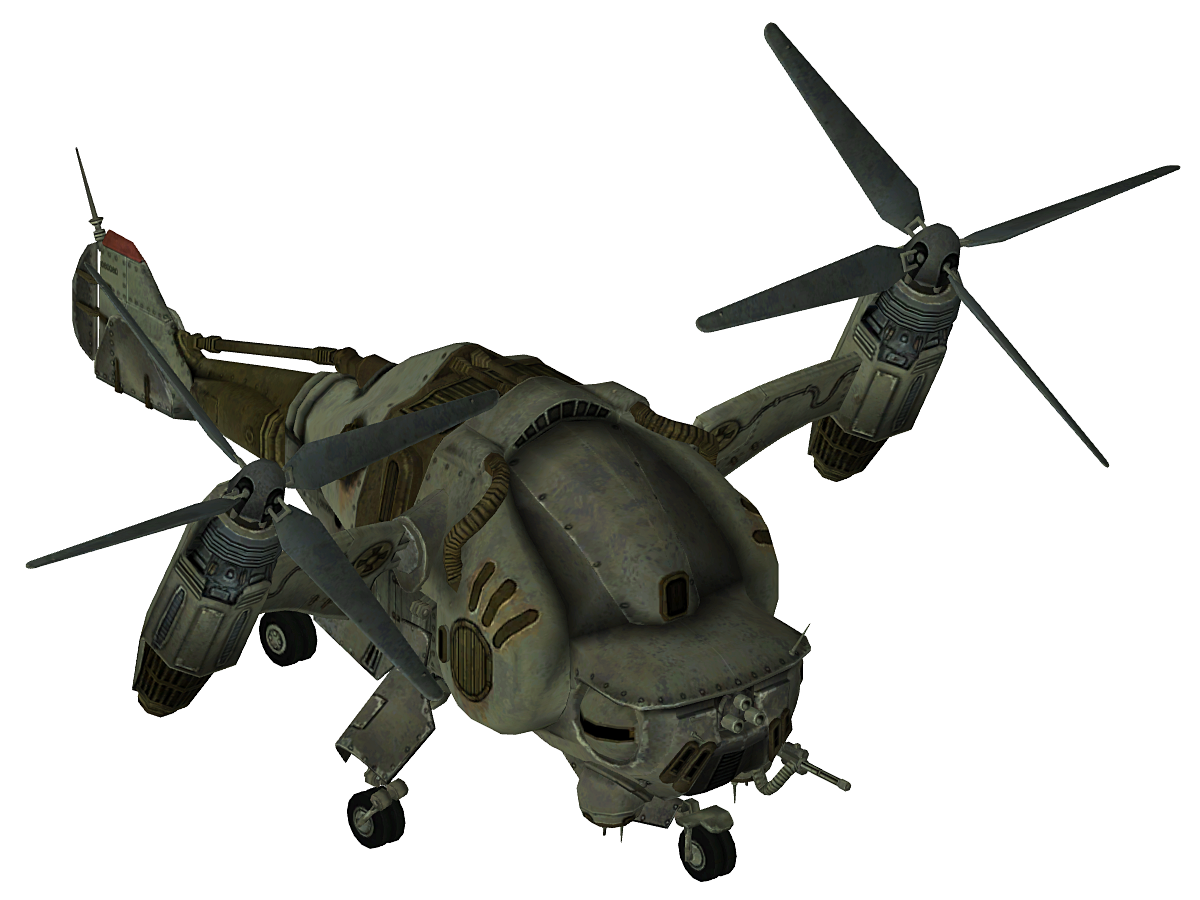 Vertibird from Fallout 4:
[Last edited
Jun 24, 2017 13:37:06
]